I didn't get much done this week and I'm still not finished with row 6. I am determined to finish this row in the upcoming week. Monday started here:
And today ended here:
But despite a horrible week, I did manage to get the house cleaned yesterday (for the first time in forever) and both boys got haircuts this morning.
Baby Bammers went first:
Mr. Grumpy-Pants Zachary always goes last because he is a total prat when it comes to haircuts (and the one time I did him before Bams, Bam thought he was supposed to behave like a prat as well).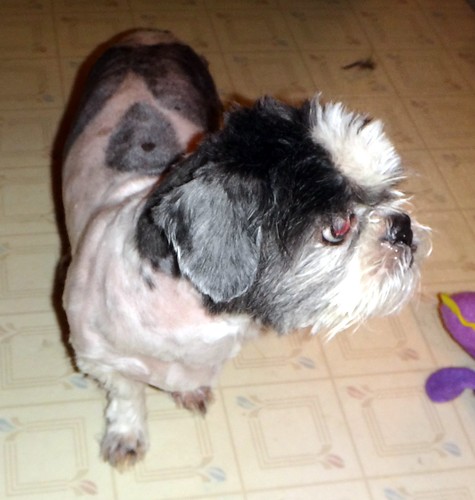 Everytime I swear never again because Zachary really is horrible. He fights me the entire time and I'm so afraid I'm gonna hurt his old bones. But I just can't bring myself to take them somewhere and leave them in someone else's hands for hours on end. Plus, they never cut them close enough and you always have to take them back sooner than you want to. If I do make mistakes, it will always grow back (usually too darn quickly). When the cutting is done, it's bath time and nail cutting time and, well, basically they hate me like mad for a couple of hours. But once bedtime hits, I am guaranteed a veritable snuggle fest because they think they are freezing to death!